Oral zinc has been shown to be effective against noninflammatory lesions but does not affect comedones (inflamed hair follicles). This is true even in people who do not show signs of zinc deficiency in their blood or skin. Zinc may safely be used in the summer because there is no issue of phototoxicity. It is typically prescribed in a dose of 200 mg/day without food. Side effects at this dose may include upset stomach and nausea. Zinc may be considered as an alternative to tetracyclines, although dermatologists do not commonly use it.

Nicomide is a vitamin supplement that is now available in prescription form to help treat inflammatory acne. It seems to affect the inflammatory types of acne and has had some success when used along with other oral and/or topical medications in the treatment of acne.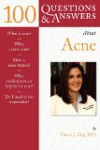 More About this Book
100 Questions & Answers About Acne
100 Questions and Answers About Acne provides you with all the information you need to manage your complexion problems. Written by Dr. Doris J. Day, a world-class expert in the field, this clearly...
Continue Learning about Acne Treatment