Resistance to antibiotics is most definitely a big and ever-growing problem in medicine. Resistance means that the medicine no longer works because the bacteria mutate (change) to work around the drug that is trying to kill them. Think of a radar detector and a driver who is bent on speeding without getting caught. The police keep coming out with better radars to catch people who are speeding, and the drivers keep coming out with better radar detectors to avoid the radars that are trying to nab them. We keep coming up with better antibiotics, but if overused or used inappropriately, we give the bacteria a chance to figure out a way to resist the medicine.
Antibiotics are drugs that are used to treat bacterial infections. Many different antibiotics are available because many different types of bacterial organisms can cause different types of infection in different parts of our bodies. Propionibacterium acnes (P. acnes) is a type of bacteria that lives only in the follicles of our skin. We use several specific antibiotics to treat this bacterium, and those antibiotics are pretty selective against only that certain type of bacteria. There is no risk of resistance to other types of bacteria that these antibiotics do not cover. When dermatologists worry about resistance of bacterial organisms to antibiotics, they are mostly worried about resistance of the P. acnes to the antibiotics that we are currently using to treat it. When you become resistant to one antibiotic, it does not mean that you are resistant to other antibiotics. For this reason, dermatologists often rotate the antibiotics they use. Also, after you stop using the drug for a while, the resistance generally goes away and you can effectively use the particular drug again.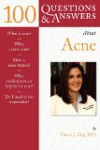 More About this Book
100 Questions & Answers About Acne
100 Questions and Answers About Acne provides you with all the information you need to manage your complexion problems. Written by Dr. Doris J. Day, a world-class expert in the field, this clearly...
Antibiotic use, appropriate or otherwise, contributes to the development of antibiotic resistance. This is true for acne medications that contain antibiotics. Short and long-term use of antibiotics for treatment or prevention of bacterial infections should be under the direction of a physician to ensure appropriate use and detection of resistance.
Continue Learning about Acne Treatment