Oral contraceptives are approximately 99.6% effective. When oral antibiotics are started, the efficacy of the oral contraceptive goes down to about 96%. This improves over the next few months back to about 99%. Physicians and patients need to recognize that the expected oral contraceptive failure rate, regardless of antibiotic use, is at least 1% per year, and it is not yet possible to predict in whom oral contraceptives may fail.

Although some antibiotics are assumed to compromise the effectiveness of oral contraceptives, the question here is whether or not the antibiotics used in the treatment of acne are associated with such a risk. To address this issue, a review was conducted in three US dermatologic practices of the records of 356 patients with a history of combined oral antibiotic/oral contraceptive use who responded to a follow-up questionnaire. There were five pregnancies in 311 woman-years of combined antibiotic/oral contraceptive exposure (a 1.6% annual failure rate) compared with 12 pregnancies in 1245 woman-years of exposure among controls (a 0.96% annual failure rate) -- no significant difference.

In addition, there were no significant differences between oral contraceptive failure rates among women who served as both cases and controls or between the two control groups. Side effects potentially linked to reduced oral contraceptive effectiveness (e.g., diarrhea, breakthrough menstrual bleeding) were not reported by the women who became pregnant.

It is presumed that individual differences in steroid blood levels are a more important cause of oral contraceptive failure than associated antibiotic therapy. Some doctors recommend that a second form of contraception be used for the few months after oral antibiotics have been taken. This would eliminate the concern, even though the risk is initially very low.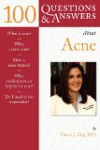 More About this Book
100 Questions & Answers About Acne
100 Questions and Answers About Acne provides you with all the information you need to manage your complexion problems. Written by Dr. Doris J. Day, a world-class expert in the field, this clearly...
Continue Learning about Acne Treatment