Whether to treat acne at all and even how to treat acne are very personal decisions. Some people are devastated by one lesion, especially if it is centered right in the middle of their nose; others can have many lesions and barely even notice. I have learned in my practice never to guess why someone has come in for the visit. I arrived at this conclusion after several instances of sitting down, looking at the patient, and saying, "So, you are here for your acne?" thinking that without a doubt, the acne was the reason for the visit -- only to be shot down with, "No, I'm here for this mole on my arm." Clearly, some are more bothered by their acne than others.

Acne is divided into three basic categories from mild to severe depending on the number of pimples and the amount of scarring: (1) mild = nonscarring, fewer than 10 lesions; (2) moderate = may scar, more than 10 lesions; and (3) severe = cystic, nodulocystic, scarring.

If you get only one new acne lesion of any type per month, but each lesion leaves behind a scar, this would make 12 new scars each year. In this case, it would be wise to treat the acne in order to prevent as many new lesions as possible and to help the ones that do appear to clear as quickly as possible in order to minimize the chance of permanent scarring.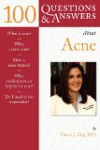 More About this Book
100 Questions & Answers About Acne
100 Questions and Answers About Acne provides you with all the information you need to manage your complexion problems. Written by Dr. Doris J. Day, a world-class expert in the field, this clearly...
Continue Learning about Acne Treatment