The OmniLux Blue is a new system that uses light-emitting diodes in the visible spectrum at 415 nm. It is approved to treat mild-to-moderate inflammatory acne. Patients usually receive eight 20-minute light treatments over a period of 4 weeks. In the studies done for US Food and Drug Administration approval, 28% of patients in the study achieved optimum clearance at 4 weeks after treatment (average clearance was 76%); 55% had optimum clearance at 2 months (average clearance was 71%), and 17% had optimum clearance at 3 months (average clearance was 73%). Treatment was tolerated well.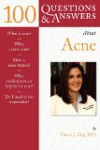 More About this Book
100 Questions & Answers About Acne
100 Questions and Answers About Acne provides you with all the information you need to manage your complexion problems. Written by Dr. Doris J. Day, a world-class expert in the field, this clearly...
Continue Learning about Acne Treatment