In the past, CO2 lasers were used to heat water within the skin. This would cause destruction of the upper layers of the skin and sometimes go even deeper. There was a 2- to 3-month healing time, after which there could still be redness for months, and then areas of the skin could appear darker or lighter than the adjacent skin. This type of treatment is still used to treat certain types of acne scarring; however, it is not recommended for the treatment of active acne.
The newer devices can target the source of the acne, such as the sebaceous gland, the Propionibacterium acnes bacterium, or the blood vessels that supply the swelling and redness, without damaging the surrounding skin. In this way, treatments can be done over time without limiting the activities of the person being treated. No "downtime" or at least very little downtime exists. This advance has made these devices more accessible and more useful in the treatment of many skin conditions. They are also much less painful than the earlier devices.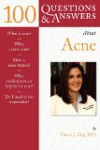 More About this Book
100 Questions & Answers About Acne
100 Questions and Answers About Acne provides you with all the information you need to manage your complexion problems. Written by Dr. Doris J. Day, a world-class expert in the field, this clearly...
Continue Learning about Acne Treatment