Low-dose doxycycline is a treatment that is gaining some momentum. When this antibiotic is at doses much lower than those traditionally considered to be therapeutic, it seems to have at least some effect on the growth of the bacteria. In addition, at these lower doses, there does not seem to be the same adverse side effects or bacterial resistance. The low-dose formulation works not by killing off the bacteria, as it would at the higher doses, but by affecting the ability of the bacteria to cause problems in the skin. In the studies done so far, at the end of 6 months, when the low-dose oral antibiotic was used alone, without any other adjunctive treatment, there was a 50% reduction in inflammatory lesions and a 53% reduction in comedones. There was no decrease in the number of Propionibacterium acnes in the skin, nor was the resistance profile affected. The bacteria that were present were simply inactivated. Side effects were minimal to none.

Although the drug's side-effect profile is definitely a plus, 6 months does, however, seem like a long time to wait for improvement of the acne. The acne was improved, but not completely resolved. The clearance may improve more quickly if combined with topical benzoyl peroxide or retinoids. It remains to be determined how useful this drug will be in the long term for the treatment of acne.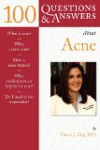 More About this Book
100 Questions & Answers About Acne
100 Questions and Answers About Acne provides you with all the information you need to manage your complexion problems. Written by Dr. Doris J. Day, a world-class expert in the field, this clearly...
Continue Learning about Acne Treatment