It is important to note that hormonal therapy can be very effective in women even if the blood levels of the serum androgens are within normal limits. Although women with acne are more likely to have abnormalities in hormonal evaluations than women without acne, most women with acne who are evaluated for hormonal abnormalities have androgen levels that are within normal limits. Hormonal therapies seem to work best in adult women and sexually active teens with persistent inflammatory papules and nodules that commonly involve the lower face and neck. These women often report that their acne flares before their menstrual periods and consists of painful, often deep, inflammatory papules and nodules. The skin may or may not be oily. There are also often comedones on the forehead and chin, especially in teenagers. These women also note that there is little or no improvement in their acne even after multiple courses of antibiotics.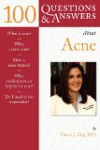 More About this Book
100 Questions & Answers About Acne
100 Questions and Answers About Acne provides you with all the information you need to manage your complexion problems. Written by Dr. Doris J. Day, a world-class expert in the field, this clearly...
Continue Learning about Acne Treatment