Technological advances are making laser treatments for acne safer for darker skin types. Although acne is a common concern in people with darker skin, lasers have been avoided for acne treatment on darker skin because of the risk of potentially disfiguring complications such as acne scarring, keloids, and skin discoloration. There are some treatments, using both lasers and intense pulsed light devices, that are being tested for darker skin and that seem to show promising results for acne on the face and on the chest and back. As with other skin types, maintenance treatments are usually needed to minimize the recurrence of acne.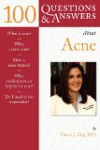 More About this Book
100 Questions & Answers About Acne
100 Questions and Answers About Acne provides you with all the information you need to manage your complexion problems. Written by Dr. Doris J. Day, a world-class expert in the field, this clearly...
Continue Learning about Acne Treatment