I am answering this question both as a professional as well as a woman of color who has undergone laser (albeit for hair removal) and experienced a complication.
Indeed, I agree that laser technology is improving for skin of color. Skin of color is both reactive and sensitive. So, in response to various triggers (as heat, infection, trauma, etc.), darker skin types will respond by creating more of the pigment, melanin, and a greater inflammatory response. These may contribute to hyperpigmentation, scarring, and in fact, more inflammation. Thus, at this point in our medical technological careers, it is perhaps best for those with skin of color to avoid the treatment of acne by laser.
Since I practice using a holistic approach to beauty and healing, I am an advocate of looking at root causes that contribute to particular aesthetic issues. If you have acne, consider those factors that may make management of the concern challenging: diet, stress, skin care hygiene, use of inappropriate skin care products, etc. There are a number of treatment options available to help you to look beautiful-- inside and out!
Tricky question and you can get a variety of answers....I say NO.
I have had clients that end up with scarring and discoloration of the skin. Problem is, everyone is different. Our bodies react differently, we expose our skin to different climates or environmental stress, etc.
So in my professional opinion and with a high success rate of diminishing acne breakouts with the right ingredients, the right nutritional supplements and targeting the root of the problem along with simple skincare tips, there is really no need for any laser treatment.
Technological advances are making laser treatments for acne safer for darker skin types. Although acne is a common concern in people with darker skin, lasers have been avoided for acne treatment on darker skin because of the risk of potentially disfiguring complications such as acne scarring, keloids, and skin discoloration. There are some treatments, using both lasers and intense pulsed light devices, that are being tested for darker skin and that seem to show promising results for acne on the face and on the chest and back. As with other skin types, maintenance treatments are usually needed to minimize the recurrence of acne.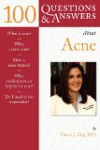 More About this Book
100 Questions & Answers About Acne
100 Questions and Answers About Acne provides you with all the information you need to manage your complexion problems. Written by Dr. Doris J. Day, a world-class expert in the field, this clearly...
Continue Learning about Acne Treatment