The best way to prevent scars is this: Don't pick at your pimples. Trauma to the skin caused by fingernails or other sharp, nonsterile objects is bad. Your dermatologist is the only person who should extract a blackhead or inject cortisone to help an inflammatory lesion resolve more quickly.

Once an acne lesion is traumatized, it will take longer to heal and will be more likely to leave behind a mark; however, even lesions that are not traumatized can take weeks or months to resolve and can still leave red or brown marks. This is through no direct fault of yours because you didn't pick at it. It usually means, however, that your skin may be more genetically prone to scarring or hyperpigmentation. In general, different skin types respond differently to acne during and after a breakout. Breakouts last longer in some people than in others, and some people tend to have red or brown marks left behind for sometimes months after an acne lesion has cleared. This seems to be related to several factors, only some of which are known, such as genetics and skin type. People with fairer skin often seem to complain of red marks that remain red for a long time before they either clear up directly or finally turn brown, whereas those with more olive or darker skin tones note that they start with increased pigmentation when the acne finally clears. Many people have an overlap with some of both kinds of marks.

The good thing about the red and the brown marks left from acne lesions is that these discolorations are not true scars. Thus, if there is no accompanying scarring, which would be seen as a depression of the skin or change in texture of the skin, the discoloration will usually eventually go away, or lighten significantly over time, or can be treated to expedite the clearing.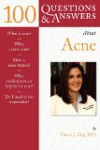 More About this Book
100 Questions & Answers About Acne
100 Questions and Answers About Acne provides you with all the information you need to manage your complexion problems. Written by Dr. Doris J. Day, a world-class expert in the field, this clearly...
Continue Learning about Acne Treatment