Oral antibiotics work by reducing the number of Propionibacterium acnes (P. acnes) and Staphylococcus epidermidis in the skin. P. acnes is thought to trigger the inflammatory response in acne and therefore plays an important role in the formation of acne lesions. Also, antibiotics have an anti-inflammatory activity, which makes them especially useful in inflammatory acne treatment.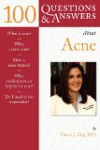 More About this Book
100 Questions & Answers About Acne
100 Questions and Answers About Acne provides you with all the information you need to manage your complexion problems. Written by Dr. Doris J. Day, a world-class expert in the field, this clearly...
Continue Learning about Acne Treatment