It is important to keep the face clean without over-washing or scrubbing. The face, or any skin that is over-washed, will be more easily irritated and may look red or even have cuts in it. Sometimes the result can be an irritant dermatitis that mimics acne. If the skin is then treated with medications designed to treat acne, the rash can actually worsen and start a negative cycle that remains unresponsive or is worsened by acne treatments. The solution in these cases is to wash less often -- no more than once or twice a day -- and to use gentle, surfactant-free gentle cleansers followed by a facial moisturizer.

The approach to washing should depend on your level of physical activity, whether your skin tends to be oily or dry, and the amount of time that you are willing to put into thinking about it. In general, washing in the evening is more important than washing in the morning.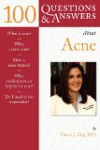 More About this Book
100 Questions & Answers About Acne
100 Questions and Answers About Acne provides you with all the information you need to manage your complexion problems. Written by Dr. Doris J. Day, a world-class expert in the field, this clearly...
Continue Learning about Acne Treatment