Laser stands for "light amplification and stimulated emission of radiation." Laser energy can be provided by various sources from a gas to a liquid to a solid. These energy sources allow for specific wavelengths of light to be intensified and directed through a column. Physicians select the wavelength of light from their understanding of how those wavelengths are absorbed by the skin. They know that the longer the wavelength, the deeper the light penetrates and that there are specific elements in the skin that prefer certain wavelengths of light.
In this way, your physician can target only the sebaceous glands or melanin high up in the skin or deeper within the skin. He or she can target water in the skin or various components of blood vessels within the skin. In this way, he or she can choose to heat and damage the skin in very specific ways without damaging surrounding skin tissue, so that in the process of healing the skin will look clear and healthy without acne or broken blood vessels or brown spots or even wrinkles.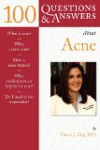 More About this Book
100 Questions & Answers About Acne
100 Questions and Answers About Acne provides you with all the information you need to manage your complexion problems. Written by Dr. Doris J. Day, a world-class expert in the field, this clearly...
Continue Learning about Acne Treatment