Oral isotretinoin is a retinoid preparation that decreases the size and secretion of the sebaceous glands. It normalizes the skin cells, especially those lining the pores. It prevents the formation of new comedones (inflamed hair follicles). It indirectly inhibits the growth of Propionibacterium acnes (P. acnes) by changing the environment in which the bacteria usually live, making it much less inviting. It also has an anti-inflammatory effect.

During oral isotretinoin therapy, sebum production is reduced by 90% or more. This leads to a substantial decrease in the levels of P. acnes; however, both P. acnes and sebum levels increase once the medication is discontinued. This makes oral isotretinoin unique among all of the current oral acne treatments available in that it affects all of the underlying factors behind the process of acne. It makes it a highly effective but sometimes controversial treatment option.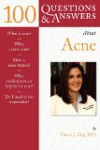 More About this Book
100 Questions & Answers About Acne
100 Questions and Answers About Acne provides you with all the information you need to manage your complexion problems. Written by Dr. Doris J. Day, a world-class expert in the field, this clearly...
Continue Learning about Acne Treatment