Compliance is key to getting results. If you don't use the medication as directed, for whatever reason, it will take longer to get results. Also, if you use too much medication or apply it too often, you increase the risk of irritation, which will also make your skin look less than optimal. Be sure to read the directions carefully for over-the-counter acne treatments, or for prescriptions from your doctor, make sure that you are clear as to how much medication you should use, how often you should use it, and how soon you should expect to see results. If you are not sure, call your doctor to review the instructions. It is better to ask twice than to do it wrong.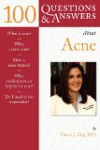 More About this Book
100 Questions & Answers About Acne
100 Questions and Answers About Acne provides you with all the information you need to manage your complexion problems. Written by Dr. Doris J. Day, a world-class expert in the field, this clearly...
Continue Learning about Acne Treatment