The wonderful part about retinoids is that they affect several of the most important steps in the path to acne formation. They get to the root problem of acne by preventing microcomedo (plugged hair follicle) formation. They decrease the number of existing comedones and block pathways that lead to inflammation. Several studies have shown that there is an enhanced therapeutic benefit when topical retinoids are used along with other topical and oral treatments for acne. Irritation from retinoids is still an issue in that some people are very sensitive to these treatments; however, patient education and proper use reduce this potential side effect.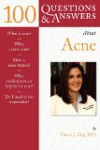 More About this Book
100 Questions & Answers About Acne
100 Questions and Answers About Acne provides you with all the information you need to manage your complexion problems. Written by Dr. Doris J. Day, a world-class expert in the field, this clearly...
Continue Learning about Acne Treatment