The very deep, pitted scars are not considered ideal for dermabrasion as the scars would end up deep and wide and would most likely be more obvious after the treatment, which is clearly not the goal. For these types of scars, the best treatment is either to try to fill them with either temporary fillers such as collagen or hyaluronic acid or with one of the more permanent fillers available on the market like artecoll. Another method of treating the deep pits or "ice-pick" types of scars is called punch grafting. This technique involves using a cookie-cutter type of blade to punch out the scar, followed by adding in skin taken from another site to fill in the hole. After this, dermabrasion can be done to smooth the edges.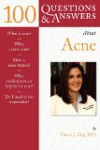 More About this Book
100 Questions & Answers About Acne
100 Questions and Answers About Acne provides you with all the information you need to manage your complexion problems. Written by Dr. Doris J. Day, a world-class expert in the field, this clearly...
Continue Learning about Acne Treatment