Spironolactone functions as both an androgen receptor blocker and possibly also an inhibitor of 5-alpha-reductase type 1. In doses of 50-100 mg/day, it has been shown to reduce sebum production and improve acne. In countries such as the United States with no effective anti-androgenic medications, spironolactone may be used for women with therapy-resistant acne, although it has not been formally approved for this condition. In one study looking at spironolactone therapy in acne, one-third of the patients had complete clearing of their acne, one-third had marked improvement, and nearly one-third showed partial improvement, with less than 10% showing no improvement of their acne.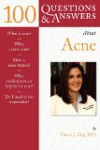 More About this Book
100 Questions & Answers About Acne
100 Questions and Answers About Acne provides you with all the information you need to manage your complexion problems. Written by Dr. Doris J. Day, a world-class expert in the field, this clearly...
Continue Learning about Acne Treatment