Flutamide blocks the androgen receptor and is approved for the treatment of prostate cancer. However, it has been used at doses of 250 mg twice a day in combination with oral contraceptives for the treatment of acne or hirsutism in women. In a study comparing flutamide with spironolactone, flutamide was shown to be superior in reducing total acne after just 3 months.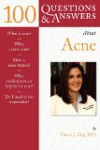 More About this Book
100 Questions & Answers About Acne
100 Questions and Answers About Acne provides you with all the information you need to manage your complexion problems. Written by Dr. Doris J. Day, a world-class expert in the field, this clearly...
Continue Learning about Acne Treatment