The aim of hormonal therapy is to reduce sebum production; however, sebum production is only one component in the pathway to acne. For this reason, hormonal therapy is most effective when used in conjunction with other anti-acne therapies, including oral or topical antibiotics, topical retinoids, and benzoyl peroxide. For those with concerns about the reduced effectiveness of contraception when oral contraceptive pills are used in conjunction with oral antibiotics, recent evidence suggests that antibiotics do not significantly affect the metabolism of oral contraceptive pills, which means that their effectiveness in contraception should not be reduced.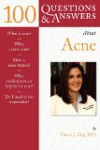 More About this Book
100 Questions & Answers About Acne
100 Questions and Answers About Acne provides you with all the information you need to manage your complexion problems. Written by Dr. Doris J. Day, a world-class expert in the field, this clearly...
Continue Learning about Acne Treatment