Hormonal therapy is an excellent option for women, especially if oral contraception is also desired. Hormonal therapy generally implies oral contraceptives, either alone or in conjunction with other hormone treatments. These treatments help women who have acne either alone or in association with other signs of hormonal imbalance such as increased hair growth on the face or other parts of the body where hair growth is undesirable and for women who have excessive hair loss from the scalp unexplained by other factors, such as thyroid or other conditions, and irregular menstrual periods.
The goal of hormonal therapy is to block the effects of androgens on the sebaceous gland and probably the skin cells that are lining the pores as well. This can be accomplished with the use of estrogens or a class of drugs known as anti-androgens (androgen receptor blockers) or by agents designed to reduce the body's production of androgens by the ovary or adrenal gland, such as oral contraceptives, glucocorticoids, or gonadotropin-releasing hormone agonist.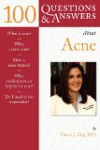 More About this Book
100 Questions & Answers About Acne
100 Questions and Answers About Acne provides you with all the information you need to manage your complexion problems. Written by Dr. Doris J. Day, a world-class expert in the field, this clearly...
Continue Learning about Acne Treatment