Topical antibiotic preparations such as Neosporin or bacitracin are very effective against specific types of bacterial infections that are common to the skin, such as staphylococcus or streptococcus skin infections. They are, however, not effective against Propionibacterium acnes. In fact, the ointment can even be occlusive, which can make the acne worse. The medications designed to treat acne are, likewise, ineffective against many of the other bacteria can cause different types of skin infections other than acne.

When looking for topical treatments for acne, look for labels that indicate that the medication is designed specifically for the treatment of acne and not just for general infections of the skin.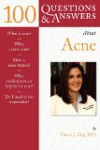 More About this Book
100 Questions & Answers About Acne
100 Questions and Answers About Acne provides you with all the information you need to manage your complexion problems. Written by Dr. Doris J. Day, a world-class expert in the field, this clearly...
Continue Learning about Acne Treatment