Because acne is an often chronic condition of the skin that is influenced by both genetic and external factors, neither oral nor topical medications can technically cure the condition. Medications can, however, have a profound effect on how active the acne is and how much treatment it can require over time.

At least one-third of people who have taken oral isotretinoin will have a relapse of their acne within the first 3 years after treatment. Because both sebum and Propionibacterium acnes bacteria levels increase once oral isotretinoin treatment is complete, acne can recur in some people after an otherwise very effective treatment course. In most cases, oral antibiotics or a second treatment course with isotretinoin can be attempted after a 2-month rest period and, rarely, even a third course if necessary. However, in cases in which there is a recurrence of the acne soon after a treatment course is completed, further evaluation may be helpful in trying to determine whether hormonal influences are a factor, which would then mean that other options should also be considered either instead of or in addition to oral isotretinoin treatment.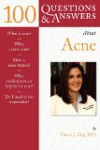 More About this Book
100 Questions & Answers About Acne
100 Questions and Answers About Acne provides you with all the information you need to manage your complexion problems. Written by Dr. Doris J. Day, a world-class expert in the field, this clearly...
Continue Learning about Acne Treatment