The one instance in which there is a very real and serious concern regarding acne medications and pregnancy is if a pregnant woman was taking oral isotretinoin (Accutane, Sotret, others) either while pregnant or if she becomes pregnant within 1 month of taking the drug. This medication must not under any circumstances be taken during pregnancy, and women taking oral isotretinoin must discontinue the drug at least 4 weeks before even trying to get pregnant. It is so important that women who plan to take isotretinoin must have adequate contraception to ensure that they will not get pregnant either during the treatment or for 4 weeks after. The matter is so important that the various makers of oral isotretinoin instituted programs called System to Monitor Accutane-Related Teratogenicity (S.M.A.R.T.), or variations of it, to help ensure that women do not get pregnant while taking this medication or for at least 1 month after. These programs offer in-depth booklets and videos to help explain the risks of getting pregnant during this time and the methods available to avoid pregnancy.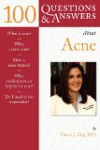 More About this Book
100 Questions & Answers About Acne
100 Questions and Answers About Acne provides you with all the information you need to manage your complexion problems. Written by Dr. Doris J. Day, a world-class expert in the field, this clearly...
Continue Learning about Acne Treatment