For optimal results from hormonal therapy, appropriate patient selection is key. Hormonal therapy is useful for women with endocrine abnormalities and for women who have proven nonresponsive to or unable to tolerate more conventional therapies such as oral antibiotics, topical antibiotics, and retinoids along with benzoyl peroxide. The use of oral contraceptive pills may also be useful for women who require medical treatment to control irregular periods or who would like contraception. It is important to remember that oral contraceptive pills do not protect against sexually transmitted diseases and that a second form of protection is required to reduce the risk of transmission of human immunodeficiency virus and other potentially serious sexually transmitted diseases.
The following are recommendations for hormonal therapy:
It is an excellent choice for women who need oral contraception for gynecologic reasons.
It should be used early in female patients with moderate-to-severe acne or signs of androgen abnormalities.
It is useful as a component of combination therapy in women with or without documentable hormonal abnormalities.
It is sometimes used in women with late-onset acne.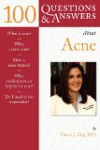 More About this Book
100 Questions & Answers About Acne
100 Questions and Answers About Acne provides you with all the information you need to manage your complexion problems. Written by Dr. Doris J. Day, a world-class expert in the field, this clearly...
Continue Learning about Acne Treatment