To lessen side effects and reduce the risk of birth defects, anyone taking oral isotretinoin should take the following measures:
Women should not get pregnant; men should not get a woman taking isotretinoin pregnant.
Do not breastfeed while taking isotretinoin or for 1 month after stopping.
Do not give blood while taking isotretinoin or for 1 month after stopping. If someone who is pregnant is exposed to your blood, her baby may be exposed and may have birth defects.
Do not take vitamin A supplements; these increase your chances of having side effects.
Do not have cosmetic procedures to smooth your skin, including waxing or laser procedures, while you are on isotretinoin or for 6 months after you stop.
Avoid excessive sunlight, ultraviolet lights, and tanning booths because this drug can make your skin more sensitive to ultraviolet light.
Do not use birth control pills that do not contain estrogen (minipills). They may not work while you take isotretinoin. Ask your doctor to make sure that the pill you are taking is appropriate.
Tell your doctor if you are taking other drugs or herbal products. Some of these products may decrease the efficacy of oral contraceptives and would have to be discontinued for the duration of the treatment and for 1 month after.
Do not share isotretinoin with other people.
Do not take isotretinoin with antibiotics unless you talk to your doctor first.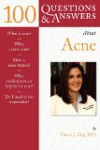 More About this Book
100 Questions & Answers About Acne
100 Questions and Answers About Acne provides you with all the information you need to manage your complexion problems. Written by Dr. Doris J. Day, a world-class expert in the field, this clearly...
Continue Learning about Acne Treatment