An evaluation of hormones, usually done by an endocrinologist, may be indicated for women with acne who have proven resistant to conventional treatments or if there is a sudden, severe onset of acne. Other cases in which an endocrine evaluation may be indicated are in women with acne who also have irregular menstrual periods and also increased hair growth in unusual areas such as the face and abdomen (called hirsutism). Androgen evaluation may also be indicated for women who relapse shortly after oral isotretinoin therapy.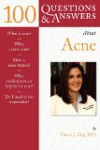 More About this Book
100 Questions & Answers About Acne
100 Questions and Answers About Acne provides you with all the information you need to manage your complexion problems. Written by Dr. Doris J. Day, a world-class expert in the field, this clearly...
Continue Learning about Acne