Breakouts before your period are caused by changes in your hormone levels. These hormones include estrogen, progesterone and testosterone. Birth control pills can reduce these symptoms by keeping your hormone levels stable throughout the month.
Before your period starts, the hormone androgen triggers an increase in the production of body oil. This excess oil can clog pores, causing your face to break out. Hormone therapies, such as taking an oral contraceptive regularly, can help control this reaction.
Continue Learning about Acne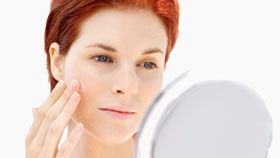 Acne is an inflammatory condition of the skin. Learn from our experts on the difference between whiteheads, blackheads and bumps and how to cope with the stress of acne.