Acne occurs in areas where there is the highest density of active sebaceous glands. It is usually found on the face, back, chest, and upper arms, occasionally extending to the buttocks in some cases. The sebaceous gland is important in the context of its effects on the pilosebaceous unit, which is the grouping of the sebaceous gland and its attached hair follicle.

The major product of sebaceous glands is sebum which is a type of lipid (fat). Some of the triglycerides in sebum are converted to free fatty acids by Propionibacterium acnes (P. acnes), which further creates an environment in which the P. acnes can comfortably grow and flourish. Squalene and certain free fatty acids play an important role in the causation of acne. It is also known that the sebum of people with acne has relatively little linoleic acid. This is a type of free fatty acid that the skin requires to help turnover and slough off properly.

In animal models where there is not enough linoleic acid, the skin becomes scaly. You can think of the acne lesion as one large scale existing inside the follicle. As a group, people with acne have larger sebaceous glands and produce more sebum which may dilute the linoleic acid in the follicle and in this way disrupt normal skin sloughing and help produce the microcomedo.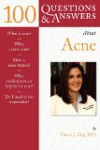 More About this Book
100 Questions & Answers About Acne
100 Questions and Answers About Acne provides you with all the information you need to manage your complexion problems. Written by Dr. Doris J. Day, a world-class expert in the field, this clearly...
Continue Learning about Acne