An open comedo is a clogged pore that has an open surface. The plural of comedo is comedones, and open comedones are also called blackheads. As you look into the clogged pore, you can see that it is black inside. This happens when a hair follicle, the tiny shaft in the skin through which hair grows, gets clogged near the top of the skin. Air that comes in contact with the plug causes it to turn black. Acne is characterized by blackheads, whiteheads (also called closed comedones), and inflamed red pimples or "zits."
Continue Learning about Acne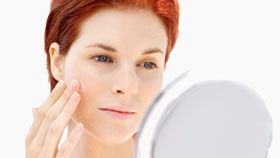 Acne is an inflammatory condition of the skin. Learn from our experts on the difference between whiteheads, blackheads and bumps and how to cope with the stress of acne.