Astringents can help remove excess dirt and bacteria from pores, both of which can contribute to acne. However, astringents can be very drying and irritating to the skin so using them as directed is very important. Applying sunblock or limiting sun exposure to the areas were it has been used is also important.
If you have acne, you should be careful about using astringents. Astringents are often used to tighten skin pores after washing the face. But for people with acne, astringents can irritate the skin and result in a breakout. If you have very oily skin, talk to a dermatologist. This is a doctor who specializes in treating skin, hair, and nail conditions. Ask the dermatologist about using an astringent sparingly on oily parts of your face.
Continue Learning about Acne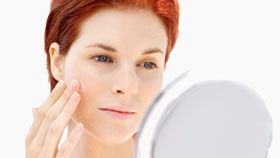 Acne is an inflammatory condition of the skin. Learn from our experts on the difference between whiteheads, blackheads and bumps and how to cope with the stress of acne.