Pomade acne was first reported in 1970 in African American men who used scalp creams and oils regularly. It consisted of blackheads and whiteheads (mostly on the temple and forehead). In the original studies, several products were implicated in the acne, including products that contained mineral oil and Vaseline or other petrolatum-based ingredients, among other ingredients. It is thought that the occlusive nature of the pomades was at least partially to blame. Patients with pomade acne are often advised to use hair care products that are noncomedogenic or less comedogenic, such as products that are water or glycerin based.

It is important to understand that no matter what you put in your hair, by the end of the day, some of it will end up on your face. Pomade acne is now a more common problem (seen in all skin types) because hair products and styles have become more complicated and often intricate, requiring pomades to keep the hair in place.

It is very important to evaluate the products that you are using in your hair if you are finding that the distribution of your acne is more concentrated at the edges of your face and, if you have longer hair, on the sides of your neck. Once the offending product is discontinued, the acne will eventually clear up on its own but can very effectively be treated with topical anti-acne therapy to expedite the resolution of the acne and to minimize any scarring.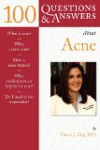 More About this Book
100 Questions & Answers About Acne
100 Questions and Answers About Acne provides you with all the information you need to manage your complexion problems. Written by Dr. Doris J. Day, a world-class expert in the field, this clearly...
Continue Learning about Acne