Infantile acne presents as comedones and inflammatory lesions, similar to the way adolescent acne would look. It can occur at anywhere from 2 months to 2 years of age or more. Baby boys are more commonly affected than girls. The face is typically involved. The underlying cause is thought to be hormonal.This type of acne is relatively uncommon, and in these cases, there is sometimes a family history of severe, scarring acne.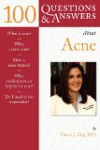 More About this Book
100 Questions & Answers About Acne
100 Questions and Answers About Acne provides you with all the information you need to manage your complexion problems. Written by Dr. Doris J. Day, a world-class expert in the field, this clearly...
Continue Learning about Acne