Different processes can affect the contents of the follicle, which translates to what happens to the microcomedo and the type of acne that then forms. If the plugged follicle, or microcomedo, stays beneath the skin and continues to grow, it is called a closed comedo, which looks like a white bump and thus is called a whitehead. No active bacteria are in a whitehead. The contents are merely the accumulated skin cells and oils that cannot reach the surface because of the blockage from above.

Over time -- meaning even a matter of days -- the blockage sometimes reaches the surface of the skin and opens. The lesion is then called a blackhead because it looks black on the skin's surface. This black discoloration is not due to dirt. It is due to a process called oxidation, in which air and the oils and proteins in the skin all affect each other and cause the contents in the follicle to turn black. Because this mixture is so thick in comparison to the normal contents of the skin, the contents remain in the follicle and continue to block the follicular opening. As with the whitehead, no active bacteria exist in a blackhead. Both whiteheads and blackheads may stay stuck in the skin for a long time.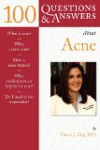 More About this Book
100 Questions & Answers About Acne
100 Questions and Answers About Acne provides you with all the information you need to manage your complexion problems. Written by Dr. Doris J. Day, a world-class expert in the field, this clearly...
Continue Learning about Acne