Cushing syndrome is a hormonal disease that occurs when the body is exposed to excessive levels of the steroid hormone cortisol. People with this condition are prone to acne because cortisol influences many other hormones, including the ones that trigger tiny glands in the skin to make oil.

Excess cortisol can come about in several ways; the adrenal gland may make too much of it, or someone may take high doses of a steroid medication derived from a synthetic form of cortisol. The body can't tell the difference between the natural hormone made by the body and a man-made steroid medicine like prednisone or hydrocortisone. The pimples of steroid acne -- associated with excess cortisol from Cushing syndrome or steroid drug use -- are usually more uniform in size than regular acne and tend to crop up on the chest, neck, back, and arms.
Continue Learning about Acne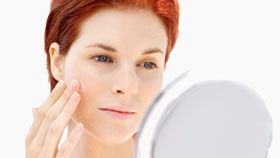 Acne is an inflammatory condition of the skin. Learn from our experts on the difference between whiteheads, blackheads and bumps and how to cope with the stress of acne.