All acne lesions start as a microcomedo. This consists of a microscopic plug of the follicle. The different types of acne lesions that evolve from the microcomedo are named based on what they look like and whether there are active Propionibacterium acnes (P. acnes) at work causing a localized infection. Inflammatory lesions contains active P. acnes within the follicle and include:
Papules: These are inflamed (red, swollen) lesions that usually appear as small, pink bumps on the skin and can be itchy or tender to the touch.
Pustules: These are papules that are topped with pus-filled lesions that may be red at the base. The pus consists of dead white blood cells and bacteria that are a result of a war between the white blood cells and the P. acnes in the follicle that then overflowed to the surface of the skin.
Nodules: These are large, painful, solid, or fluctuant lesions that are lodged deep within the skin with a small opening to the surface where the follicle exits to the skin. They often feel hard to the touch because they consist of a combination of oils and proteins that have accumulated within the nodular cavity. They can last for months and leave behind crater-like scars.
Cysts: These are rarely found in acne, and the term is generally abandoned in favor of nodulocystic or severe nodular acne. This consists of multiple deep, painful, pus-filled lesions that can leave behind crater-like scarring in the skin.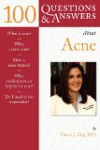 More About this Book
100 Questions & Answers About Acne
100 Questions and Answers About Acne provides you with all the information you need to manage your complexion problems. Written by Dr. Doris J. Day, a world-class expert in the field, this clearly...
Continue Learning about Acne