It is recommended that you stop using retinoids for about 5 to 7 days before and 2 days after having lips, brows, or face waxed in order to minimize irritation and "burning" from the procedure. Even if the retinoid is being applied to only the forehead and cheeks, the skin on the upper lip can still be more sensitive to waxing or other potentially irritating procedures. However, other areas of the body that are not being treated with retinoids are not affected, eg, legs or other areas not being treated with the retinoid can undergo waxing procedures as usual.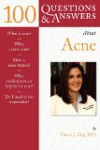 More About this Book
100 Questions & Answers About Acne
100 Questions and Answers About Acne provides you with all the information you need to manage your complexion problems. Written by Dr. Doris J. Day, a world-class expert in the field, this clearly...
Continue Learning about Acne