The types of ultraviolet radiation of concern to skin are ultraviolet A (UVA) and ultraviolet B (UVB). In natural sunlight, there is 90% UVA and 10% UVB. The majority of reactions from ultraviolet radiation and sun exposure are from UVA, which penetrates through glass and is relatively constant throughout the year.

Tanning booths usually provide approximately 95% UVA and 5% UVB. They often tout increased safety because of the fact that they are lower in concentration of UVB, which is responsible for burning and contributes to skin cancer formation. Research has shown that UVA is responsible for much of what we call photo-aging, as it penetrates deeper into the skin and destroys elastic tissue and collagen, and it is a contributor to the development of skin cancer. It also affects the sebaceous glands and encourages them to grow and become more lumpy and prominent in the skin, called sebaceous hyperplasia. Sebaceous hyperplasia is not a cancerous or precancerous condition but can be unsightly and disconcerting to the sufferer, as there are sometimes many lesions on the face. Also, this type of lesion can mimic a type of skin cancer called basal cell carcinoma, and a biopsy may be required to make a diagnosis of the lesion.

Besides the fact that you should never use a tanning booth, you should especially avoid tanning salons while you are taking oral antibiotics or isotretinoin or using retinoids. These products increase the sensitivity of your skin to sun, each in their own way. Sun exposure is very similar in composition of ultraviolet rays to tanning booths, and thus, excessive sun exposure should be avoided. Sunscreen should be used, even for incidental sun exposure.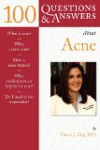 More About this Book
100 Questions & Answers About Acne
100 Questions and Answers About Acne provides you with all the information you need to manage your complexion problems. Written by Dr. Doris J. Day, a world-class expert in the field, this clearly...
Continue Learning about Acne