The idea that acne is caused by dirty skin is a common misconception and many people believe that frequent cleansing with harsh, drying cleansers and abrasive scrubbers is the only way to take care of acne prone skin. However, such aggressive treatment can actually cause skin to become irritated and dry, without diminishing the presence of acne, and perhaps even exacerbating the skin's inflamed appearance. Gentle cleansing and moisturizing has been shown to be beneficial for acne prone skin, helping to keep breakouts at bay.
It is a common misconception that acne is caused by dirt. Many patients think the black you see in blackheads is dirt so they use scrubs and granular cleansers in hopes of washing their acne away. In reality,you can not wash acne away. Gentle cleansers are great for cleaning acne prone skin and removing surface oils but using harsh cleansers and scrubs may make acne worse.
Continue Learning about Acne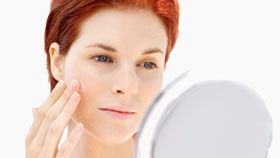 Acne is an inflammatory condition of the skin. Learn from our experts on the difference between whiteheads, blackheads and bumps and how to cope with the stress of acne.