Tea tree oil can be applied to the skin in a diluted form to treat acne. It has the ability to penetrate comedones (blackheads and whiteheads) and kill the bacteria within that are responsible for the inflammation seen in acne. Tea tree oil can irritate the skin, however, especially in people with eczema. Therefore, it should be used sparingly at first or avoided if you have sensitive skin.
Many swear by the bacteria-fighting, anti-acne action of tea tree oil. If the pure oil irritates your skin, try diluting it with a bit of water.
Continue Learning about Acne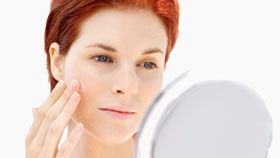 Acne is an inflammatory condition of the skin. Learn from our experts on the difference between whiteheads, blackheads and bumps and how to cope with the stress of acne.