There is no evidence that having tanned skin helps to clear up acne. And tanning beds may cause you far more serious concerns than their impact on your acne. Not only is your skin at greater risk of burns, irritation, and dryness, but tanning beds can increase the chance of premature skin aging and skin cancer. Some recent findings show that using tanning beds before age 35 increases the chance of melanoma, the deadliest skin cancer. This increased risk of melanoma is as high as 75%, even in teenagers. If you have acne, talk openly with your dermatologist about effective treatments and safe lifestyle habits. Ask more about the dangers of tanning beds so you fully understand the serious risks involved.
Continue Learning about Acne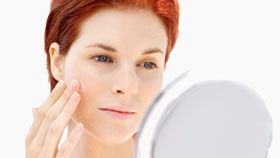 Acne is an inflammatory condition of the skin. Learn from our experts on the difference between whiteheads, blackheads and bumps and how to cope with the stress of acne.