For some people, especially those with inflammatory acne, there is a dramatic improvement in the skin over the summer, when the days are longer and we typically spend more time outdoors, or after sun exposure. This may be because of ingredients called porphyrins that are part of the Propionibacterium acnes bacteria. These porphyrins are very sensitive to sunlight, especially in the 410-420 nm range. This would be in the area of violet/ blue light. Ultraviolet light (UVA and UVB) is invisible. However, it is damaging to the skin in many ways. It is well known to cause premature aging of the skin and various types of skin cancer and it is known to make acne worse. It is also known to be comedogenic, that is, to stimulate the development of acne lesions.

Sun exposure has a drying effect on the skin and damages the sebaceous glands, making them temporarily less active. For this reason, people with overactive sebaceous glands may find that their skin gets initially better after sun exposure; however, the heat and sweating that often accompany sun exposure can make acne worse for some people.

Some people go to tanning salons thinking that this is a safe way to get "sun" and top treat their acne. Tanning beds contain the same ultraviolet radiation found in natural sunlight; however, there is a higher amount of ultraviolet A than in natural sunlight and less ultraviolet B than found in nature.

Prolonged exposure to ultraviolet light may actually increase comedonal acne. In addition, many studies show that tanning beds are not safe. Chronic sun exposure from any source, including tanning beds, increases the risk of skin cancer and premature aging. Also, it is well known scientifically that sun exposure is immunosuppressive to the skin and slows wound healing. Specifically, collagen formation is affected, which means that the marks left behind from any healing lesions will take longer to disappear and will even have a higher chance of leaving a permanent scar.

The bottom line here is very clearly to avoid excessive sun exposure in general and tanning beds in particular, especially if you have acne. This is the best way to keep your skin looking younger, more healthy, and radiant.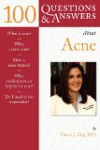 More About this Book
100 Questions & Answers About Acne
100 Questions and Answers About Acne provides you with all the information you need to manage your complexion problems. Written by Dr. Doris J. Day, a world-class expert in the field, this clearly...
Continue Learning about Acne