A common myth is that dirty skin causes acne. Dirt does not cause blackheads and other acne lesions; however, poor skin hygiene can make acne worse. Proper skin hygiene is very important in maintaining healthy skin. It not only helps control acne by working from the outside to help reduce buildup of skin cells around the pores, it also helps to keep the skin healthy and looking its best even at the deeper layers.

On the other hand, over-washing can be very unhealthy for the skin and is usually a bigger problem than not washing enough. Using drying, harsh soaps on the skin on a regular basis can strip away the skin's natural and healthy barrier and leave it more vulnerable to infection and irritation. It can leave the skin red and actually cause a rash that mimics acne.

The squeaky-clean feel that used to be considered a good thing is really a sign that you have overdone it and need to moisturize. Choose a soap-free cleanser for the face, as soaps contain a class of ingredients called surfactants, which give the soap its marvelous lather. The surfactant's job is to bind to oils and remove them from your skin, leaving your skin clean in the process. The problem is that surfactants are irritating to the skin and remove more oils than you need to have removed.

Instead, you can use an exfoliating cleanser at night to remove the dirt and makeup. In the morning, it is generally better for most people to use a gentle soap-free cleanser, one that may not even create any lather, followed by your usual morning routine of sunscreen and any other regimen that you may follow.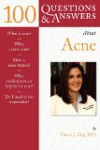 More About this Book
100 Questions & Answers About Acne
100 Questions and Answers About Acne provides you with all the information you need to manage your complexion problems. Written by Dr. Doris J. Day, a world-class expert in the field, this clearly...
Continue Learning about Acne