Oily skin creams can make your acne worse. Acne is caused by excess sebum (oil), bacteria, and dead skin cells clogging your pores. Once the pores are clogged, they produce small, red pimples or lesions. Using oily skin creams adds more oil to an already oily skin condition. The added creams can further clog pores and worsen your acne. Look for oil-free skin creams that won't clog your pores. These products are usually labeled as "non-comedogenic" or "non-acnegenic." Acne products vary, so choose the one that is most appropriate for your skin type and condition.
Continue Learning about Acne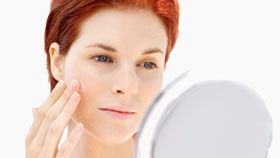 Acne is an inflammatory condition of the skin. Learn from our experts on the difference between whiteheads, blackheads and bumps and how to cope with the stress of acne.