When the body is under stress, from fear of an approaching perceived physical or emotional danger, it releases a hormone called cortisol. This hormone helps us through whatever situation is at hand, but it does so at a price. Cortisol also leads to suppression of the immune system, which gives Propionibacterium acnes an opportunity to flourish, leading to a flare of inflammatory acne in some people.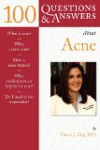 More About this Book
100 Questions & Answers About Acne
100 Questions and Answers About Acne provides you with all the information you need to manage your complexion problems. Written by Dr. Doris J. Day, a world-class expert in the field, this clearly...
Continue Learning about Acne