Many moisturizers are available, the vast majority of which are over the counter. In choosing a moisturizer that is right for you, look for one that is designed specifically for the face, if this is the area that needs moisture, and look for one that has an SPF of 15 or higher if you are using it in the morning. In this way you can address two important issues at once: You can moisturize your skin, and you can protect it from the damaging rays of the sun, the effects of which may be magnified by the acne regimen that you are on. Look for moisturizers with "nonacnegenic" or "noncomedogenic" written on the label or packaging.

Finding the right moisturizer can be an ordeal of trial and error. I usually recommend that people use a moisturizer that is more rich and creamy at night because there is greater water loss from the skin at night and a lighter cream or lotion in the morning, with an SPF, of course.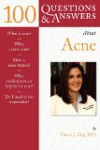 More About this Book
100 Questions & Answers About Acne
100 Questions and Answers About Acne provides you with all the information you need to manage your complexion problems. Written by Dr. Doris J. Day, a world-class expert in the field, this clearly...
Continue Learning about Acne