Even though you may not be as emotional as you were at 13, acne may have a profound impact on your self-esteem and confidence. Your face is your most important feature, and it's usually the site where acne can be particularly troubling. We put our best foot forward, but we also try to put our best face forward when we present ourselves to the world, to our lovers, our bosses, our friends, our family, our coworkers, and ourselves in the mirror. It's no secret that our facial appearance is closely tied to body image. Let's not forget that dealing with acne can be an incredibly stressful and painful experience in more ways than one. The ultimate fallout from prolonged suffering from acne can be devastating as one becomes socially dysfunctional. The emotional toll, from depression, anger, frustration, anxiety, and embarrassment, can be overwhelming.

From The Mind-Beauty Connection: 9 Days to Less Stress, Gorgeous Skin, and a Whole New You by Amy Wechsler.
Continue Learning about Acne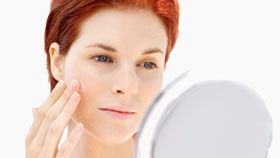 Acne is an inflammatory condition of the skin. Learn from our experts on the difference between whiteheads, blackheads and bumps and how to cope with the stress of acne.