Even though acne is typically thought of as a teen problem, adults-especially women in their 20s, 30s, and 40s-can experience acne, even if they didn't have acne when they were teenagers. Adult acne may look different than teen acne: Adults often have red bumps around the mouth and jaw rather than pimples in the "T-zone" (forehead, nose, and chin). Like teen acne, adult acne may still be caused by fluctuating hormone levels, such as those experienced during menstruation or pregnancy. In addition, other factors like cosmetics, certain drugs, stress, and humidity and sweating are likely to contribute to adult acne.
Adult acne differs from teen acne in many ways. Adult acne patients usually get acne on the chin and sides of the face whereas teenage acne is located in the central face or T-zone. Teenagers are far more oily than adults with acne which is why many adults have difficulty using commercially available acne products. Most acne remedies are designed for teens and can cause excessive dryness of the skin in adults. And finally, adult acne is usually less severe than teen acne and more likely to be caused by stress, hormonal changes or medications.
The acne that occurs in adults often has a different distribution than it does in teenage acne. Adult acne tends to center more on the lower part of the face, around the chin, and along the jaw line. It is much more common in women than in men and can be more difficult to control because the skin in this area is often more sensitive and more easily irritated from the often drying medications that are used in acne.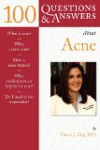 More About this Book
100 Questions & Answers About Acne
100 Questions and Answers About Acne provides you with all the information you need to manage your complexion problems. Written by Dr. Doris J. Day, a world-class expert in the field, this clearly...
Teen acne is most often focused on the face and neck, and is commonly related to the hormonal changes that naturally occur through puberty. Adult acne can happen on the face, neck, back, chest, and shoulders, and can be brought on by environmental factors, bodily changes due to pregnancy or medications.
Continue Learning about Acne