People of all races, ethnicity, and ages get acne, making it the most common skin disorder in the United States. It is most common in adolescents and young adults. Nearly 85% of people between the ages of 12 and 24 years develop the disorder. For some people, acne tends to go away, or at least dramatically improve, by the time they reach their 30s; However, some people in their 40s and 50s continue to suffer from this skin problem, while others do not even start to get acne until they are in their 20s, 30s, 40s, or more. Different people may be prone to different types of acne based on genetics and other factors that scientists are still working to understand.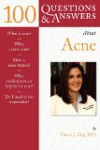 More About this Book
100 Questions & Answers About Acne
100 Questions and Answers About Acne provides you with all the information you need to manage your complexion problems. Written by Dr. Doris J. Day, a world-class expert in the field, this clearly...
Continue Learning about Acne