The screening usually involves a physical exam by the doctor and a series of blood tests to measure specific levels of hormones in the blood. These screening tests are timed to correlate with a certain phase of the menstrual cycle and are usually done within 2 weeks before the next menstrual cycle begins. People on oral contraceptive pills should discontinue the medication for at least 1 month before testing. These tests are designed to try to pinpoint the source of the increased androgen production so that appropriate therapy can be instituted.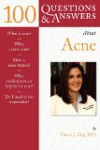 More About this Book
100 Questions & Answers About Acne
100 Questions and Answers About Acne provides you with all the information you need to manage your complexion problems. Written by Dr. Doris J. Day, a world-class expert in the field, this clearly...
Continue Learning about Acne